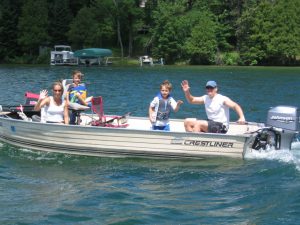 The clear blue waters and underwater landscape of Deer Lake in Grand Rapids, Minnesota is uniquely suited to a high population of prize muskie. Since we are located directly on the shores of Deer Lake, we at the Pineridge Resort have come to know a thing or two about muskie fishing. If you're are new to the challenging sport we want to help. From the proper gear and bait to the perfect location, let us be your guide this spring season.
Gear
Choosing the proper equipment for your muskie fishing adventure can be a daunting task. Over the years, we have talked with countless fishermen at the resort and have heard countless fish stories. After hearing the facts from so many fabulous gusts, we have come to a pretty decent understanding of what seems to work and what doesn't when it comes to muskie fishing. Long rods are ideal when it comes to muskies, 8 to 9 feet at least. Just as important as the rod is the line. You want your line to be strong and reliable against such a powerful fish. Muskie fishermen suggest 100 pound tested – braided line paired with a 150 to 200 pound tested leader.
Docking
Docking at the Pineridge Resort is never an issue. The resort offers a 14 foot aluminum boat and free harbor docking for any personal boats with each cabin rental. Motor day rentals are also available to any Pineridge guest. Please note that due to restrictions, some larger, personal boats may need to use the public boat launch access.
Bait
Muskie are at the top of the water's food chain and don't have any problem finding their next meal. The muskie's vast number of choices in their feeding makes them rather finicky eaters and curious about anything they hunt. This is why knowing how to choose the best bait is key when going after a prize muskie. Fresh, live bait and proper line maneuvering can help make all the difference. Since the Pineridge Resort is so close to Grand Rapids, fresh bait is easy to come by. If you prefer to use lures or artificial baits, we can help you find what will have the highest probability of success.
---
Local Muskie Guides
Our muskie guides know the lake and the fishing. They are highly qualified to take you out and find you the best fishing spots dependent on the weather and time of year.